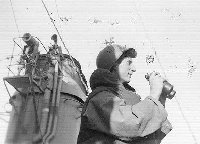 This web site is dedicated to the Officers and Crew of the USS Champlin DD-601, commissioned September 12, 1942 and decommissioned January 31, 1947.

Elsewhere on this site you'll find information about the destroyer, the ships history, information on the Officers and Crew, historic photos, and information regarding the USS Champlin Reunion Group.

If you, a loved one, or friend served on the USS Champlin, please drop us a line by e-mail by clicking here to share memories of times aboard the USS Champlin DD601.



Please help us keep the USS Champlin Website "afloat"


There are costs associated with the upkeep of any website, and the USS Champlin Website is no exception. We have expenses for domain registration, monthly hosting fees, photo retouching/editing software, HTML editing software, and file upload/transfer software. These costs are becoming increasingly difficult to absorb without additional support.

Please consider clicking on the PayPal donation button below to help support and keep the USS Champlin Website "afloat". You may unsubscribe at anytime after making your initial donation.